Backstreet's got it going on for years, even before this floorplan was current.

Thanks to the Wayback Machine's archive of atlanticshoppingcentres.com, you can view directories and floorplans of quite a few shopping centres not only in Atlantic Canada, but as far west as Ontario. And one of them is Penhorn! The info I could dig up is from 2003 only; a few different months, but not too much changed. Urban Living moved across the hall to an only slightly smaller space, and Marble Arch Country Kitchen was replaced by Dave's Fish House. Even in 2003, three out of seven food court spaces were empty! In January 2003, there were 20 vacancies, including the second largest space in the free-standing Moores building.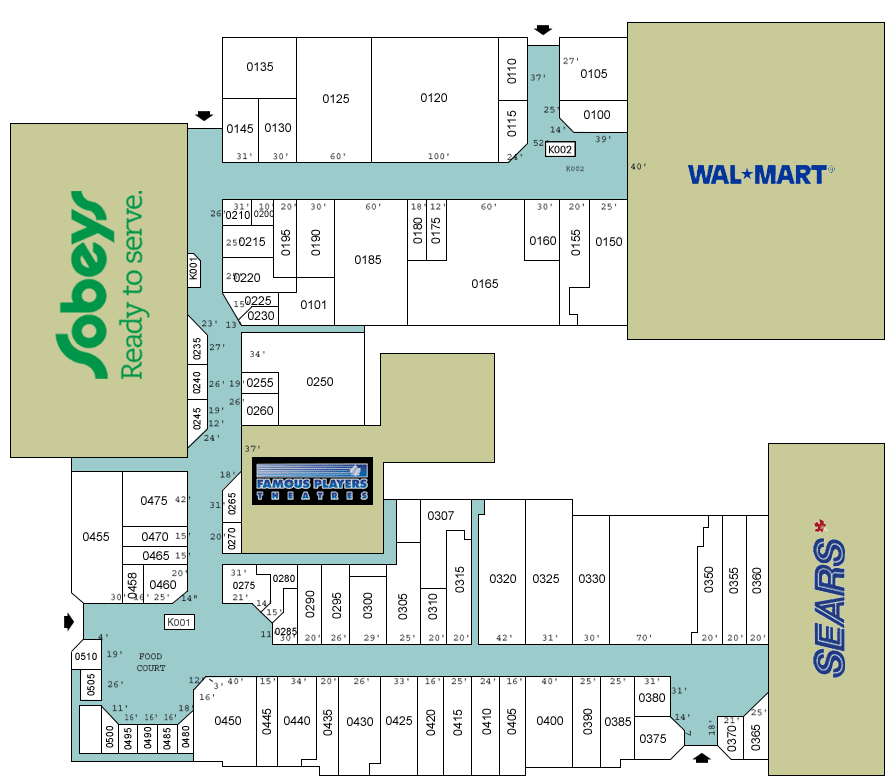 Bogart's Jewelery 0100 Household Finance 0105 Tim Hortons 0110 Northern Reflections 0115 Mark's Work Wearhouse 0120 Off Broadway 0125 Active Life 0130 Penhorn Dental 0135 Carlton Cards 0145 Bangz Hair Studio 0155 A Buck or Two 0165 San Francisco Gifts 0175 Bamboutique 0180 CIBC 0185 Nova Scotia Liquor Commission 0190 Second Glance Interiors 0195 Moneysworth & Best 0200 Japan Camera 0210 Frame Plus Art 0215 Panhandler 0220 Halifax Watch 0225 Lo Le Nails 0230 Racing Around 0240 Pretzel Maker 0247 Good Time Oldies 0250 Maritime Travel 0255 Mineral City 0260 Things Engraved 0265 Peking Alley 0270 Bentley 0275 Ink Jet Exchange 0280 Claires Accessories 0285 Hakim Optical 0290 Wicker Emporium 0295 Kayels Clothing 0300 Urban Living 0305 Muscle Tech 0310 Lindor 0315 Bata 0320 Yellow Shoes 0325 Dollarama 0340 Bluenotes 0350 Century 21 0355 Tattletales 0360 Lucas Cafe 0370 Stan's Hairdressing 0375 Charm Jewelry 0380 Radio Shack 0390 Music World 0400 Petsters 0420 Suzy Shier 0425 Coles Book Store 0430 Witness Christian Family Store 0435 Penhorn Medical 0445 Reitmans 0450 Advantage Wireless 0458 Crescent Jewelers 0460 Tuxedo Palace 0465 Body & Bath Basics 0470 Eclipse 0475 Chicago Fries 0480 Marble Arch Country Kitchen 0485 A & W 0495 Manchu Wok 0505 Moores the Suit People FS01 Cooperators Insurance FS05 Infoplace K001 Rogers AT&T Wireless K002
This is from May 2003, with 19 vacancies. Among those are 0099 and 0101, which I can't find on the floor plan at all. If you look at the map in the previous section, you can see that 0100 was split into two spaces at some point, but that only accounts for one of those spaces, as 0100 still existed, just smaller. But this floor plan image definitely does not match up completely to the directory it's next to, as the image doesn't show 247, Pretzel Maker. Anyone on the atlanticshoppingcentres.com site in 2003 might have gotten a bit confused about if Pretzel Maker was there or not.
NEXT... Bonus look at other stores in Dartmouth that have changed or vacated...